Browse Items (113 total)
This is a film clip of I.S. 201, both inside and outside the school. Protesters are also shown demonstrating out front.
This is a photo of Clarence Funnye, New York CORE chairman from 1964 to 1965. He is also the brother of Harlem CORE member Doris Innis (aka Doris Funnye) and brother in law to Harlem CORE chairman Roy Innis.
Like his sister, Clarence was a member…
This is a 1964 letter from former CORE national chairman, Charles Oldham, to James Farmer, CORE's National Director, suggesting New York CORE be penalized for its dissent in supporting Brooklyn CORE's Stall-In campaign at that year's World's Fair in…
This is a group photo of several New York CORE members taken at an event supporting the demonstration at the 1964 World's Fair. Ronald Stark, one of the editors of the chapter's in-house journal 'Rights and Reviews', is the White male on the right…
This is a letter from New York CORE member J.W. Franklin, Jr. (also known as "Buddy") to the CORE national office complaining about Malcolm X coming to speak at one of New York CORE's general meetings for members and the public. Franklin at the time…
This is a photo of New York CORE chairman Marshall England, dating from the early 1970's. He served as chairman from 1963-1964, and as the Housing Committee chairman under both Gladys Harrington and Clarence Funnye.

As the leader of New York…
In 1967, undercover police officer Ray Wood (aka Ray Woodall) testified during congressional hearings before the Committee on Un-American Activities. As part of an investigation into 'subversive influences in riots, looting and burning.', he gave…
This is a 1962 newspaper photo of New York CORE member Blyden Jackson, with his wife at the time, Carmel Jackson. At the time the photo was taken he was the chairman of the New Haven, CT chapter of CORE. He became one of the founding members of East…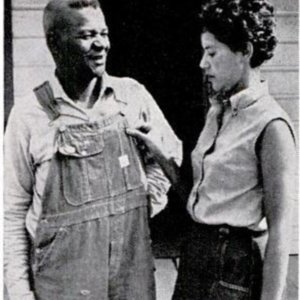 This is a 1963 photo of Mary Hamilton in West Feliciana Parish, Louisiana. She is standing next to Rev. Joe Carter, the first Black person to vote in that parish in 61 years because of Jim Crow segregation laws. Whites had retaliated by terrorizing…
This is a list of new New York CORE members one month after the chapter moved to 125th street. It includes Doris Funnye (aka Doris Innis), Lucy Komisar and Mary Hamilton.
CORE traditionally had two classes of membership. These listed had just…
Proudly powered by Omeka.