Browse Items (33 total)
This is an interview of the first Harlem CORE chairman, Gladys Harrington. It is from a 1963 CBS News special 'The Harlem Temper'.

One of the negative criticisms of Harrington's tenure was the chapter did not do much in Harlem. Most of their…
This is a photo of two CORE founders, George Houser (standing right in beige jacket, goatee) and James Robinson (standing left, red cap).

Both have much in common in terms of their long and dedicated histories as activists. Both men also served…
This is a photo of Harlem CORE chairmen Cyril Boynes, Jr. (center, mutton chops) and George Holmes (far left) being arrested in 1984 with one time United States Presidential candidate Rev. Al Sharpton (right). They were protesting the newly increased…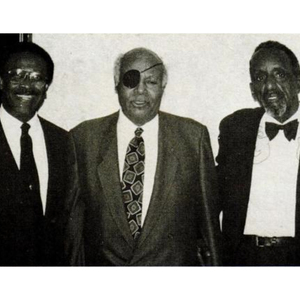 This is a 1993 photo of Harlem CORE member Donald Elfe (left) with CORE founder James Farmer (center) and Prof. Preston Wilcox, sociologist at Columbia University, 'Known as "the father of school decentralization" in New York City, and "the leading…
This is a 1976 campaign ad for Harlem CORE member Waverly Howard.
The Harlem born and raised Howard was an associate member of the the chapter when it was still an integrationist organization. Here, he serves as an example of the Harlem CORE…
This is a film clip of I.S. 201, both inside and outside the school. Protesters are also shown demonstrating out front.
What is interesting to me about this clip is that it shows there are still a good number of White people that are part of CORE in 1965. White members had been leaving the organization in large numbers as the attitude of Blacks in the organization was…
This is a 1962 newspaper photo of Harlem CORE member Blyden Jackson, with his wife at the time, Carmel Jackson. At the time the photo was taken he was the chairman of the New Haven, CT chapter of CORE. He became one of the founding members of East…
This is a photo of Sheila Michaels, one of the earliest members of Harlem CORE once the chapter (known as New York CORE) moved up to 125th street. Like Susan Brownmiller and Susan Wells (among others) she was involved in some of the early housing…
This is a photo of Thurgood Marshall Academy in 2009. It illustrates how the school is located in the same space as Harlem CORE's office was in the 1970's on 135th st.
The school's existence legitimizes the work of Harlem CORE, 40 years later. As…
Proudly powered by Omeka.