Browse Items (138 total)
This is a May 17, 1960 photo of Harlem CORE member Darwin Bolden (Black male, front, glasses, hat). The former chairman of New York CORE when it was still in midtown, he remained an active member once the chapter moved uptown.

According to the…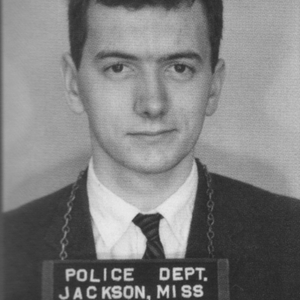 This is the 1961 arrest photo for Harlem CORE member Abraham Bassford as a Freedom Rider. At the time , he was 24 years old and a college student in Staten Island. As a member of New York CORE, he was one of the earliest members of Harlem CORE and an…
This is the 1961 arrest photo for Mark Lane as a Freedom Rider in Jackson, Mississippi. 34 years old at the time, he was arrested with Percy Sutton. Both men not only represented Harlem CORE but many of the Freedom Riders, as well. He was the…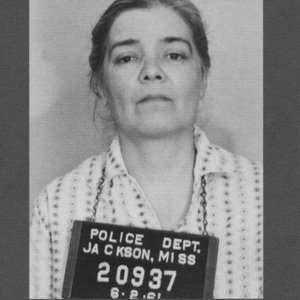 This is the arrest photo for Harlem CORE member Elizabeth Wykoff as a Freedom Rider in Jackson, Mississippi. At the time, she was 45 years old. According to Joanne Shane, Gladys Harrington's Executive Secretary, Wykoff " was very active and was…
This is a photo of Harlem CORE member James Peck standing next to fellow Freedom Rider Henry Thomas.

James Peck is an original member of CORE. His participation goes as far back as the original Journey of Reconciliation in 1947.

He was a…
This is photo of Harlem CORE chairman Victor Solomon (right, turtleneck) at Harlem CORE's annual Christmas celebration.
Originally from Cuba, Solomon was Harlem CORE's only Latino chairman.
This is a photo of Harlem CORE chairman Leonard DeChamps surrounded by children at a Harlem CORE annual Christmas celebration.

DeChamps before becoming Harlem CORE chairman in the 1970's was the head of CORE's youth affiliate, the Students…
This is a photo of a protester holding a poster with the 'Blood Brothers' logo created by Harlem CORE member Tony Spencer. It depicts a White arm and a Black arm shaking hands over a graphic of the planet Earth. The women in the photo are unknown.
This is a clip of former New York City mayor Rudy Guiliani's video message to CORE's 25th Anniversary Dr. Martin Luther King, Jr. Award Ceremony.
Again, this is yet another example of the 180 degree turn that CORE has made politically since the…
This is a 1968 photo of Harlem CORE member Omar Abu Ahmed (right, bald head) standing next to SNCC chairman H. Rap Brown (left, sunglasses).
As an active member of Harlem CORE, Ahmed attended the March on Washington. He was also a founding…
Proudly powered by Omeka.